Recycle Water Solutions manufacture systems to meet our customer requirements.


6.25m2 up to 400m2 on membranes
Modular arrangement - stack and rack
High flexibility and adaption to load and flow variations
Highest package density in class
Long lift time in excess of 10 years
---
Small Wastewater Treatment Plant Controller
The Controller controls up to 12 components (pumps, blowers, mixers) from the small wastewater treatment plant with membrane filters.

During the operation, the electrical current for the components is continuously monitored so that operating failure can be identified at an early stage. Float switches can be additionally connected for level monitoring.

The controller is designed to allow two versions of controls; Basic and Advance. With the Advance version, an additional printed circuit board (PCB) is added that gives extra inputs/outputs.

The controller is a micro-processor based unit with a LCD screen interface. It is through this LCD interface and 4 menu buttons, that the parameters can be set.
---
Mechanical Pre-Treatment:


Field of use


Mechanical pre-treatment in decentralised water treatment plants
Fine screening through openings with a diameter of less than 3 mm makes it ideally suited for membrane aeration systems
Maximum flow rate of 7 l/s



Advantages


Simple and low-cost compact design
High hydraulic throughput with even the smallest opening diameters since the screen's entire circumferential surface area is effective
Combines the functions of screening wastewater, separating grit and washing out organic matter all in one device
Upgradeable with a discharge screw including dewatering and hygienic packaging



Objective
Hairs, fibrous materials, etc. can form unwanted agglomerations and clog the membrane bioreactor and therefore have to be separated from the raw wastewater to ensure the membrane aeration plant's safe and low-maintenance operation. But the organic contents of the screenings should be returned to the biological treatment stage as a carbon source.

Decentralised membrane wastewater treatment plants need a simple and low-cost mechanical pre-treatment to separate screenings and sand.
The siClaro® fine screen combines a vertical fine screen with screenings washer and a circular grit chamber and thus satisfies these requirements. The separated solid matter can be discharged via a dewatering screw press but the collected screenings and sand can also be sucked off directly from the tank with a suction vehicle.


---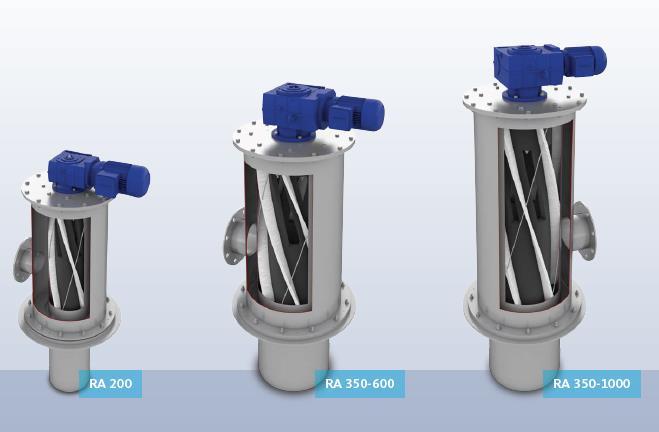 Function
The wastewater enters the screen unit tangentially and is forced into a cyclic flow (teacup effect) whereby the resulting vertical force moves the sand grains to the hopper throat. Light suspended and solid matter rise in the centre of the circular grit chamber and are retained by the cylindrical screen element.

Several spirally arranged brushes clean the screen cylinder. The solid matter is transported to the raw water tank opposite to the inflow. The raw wastewater washes organics out of the rising solid matter during its multiple circulations.
---